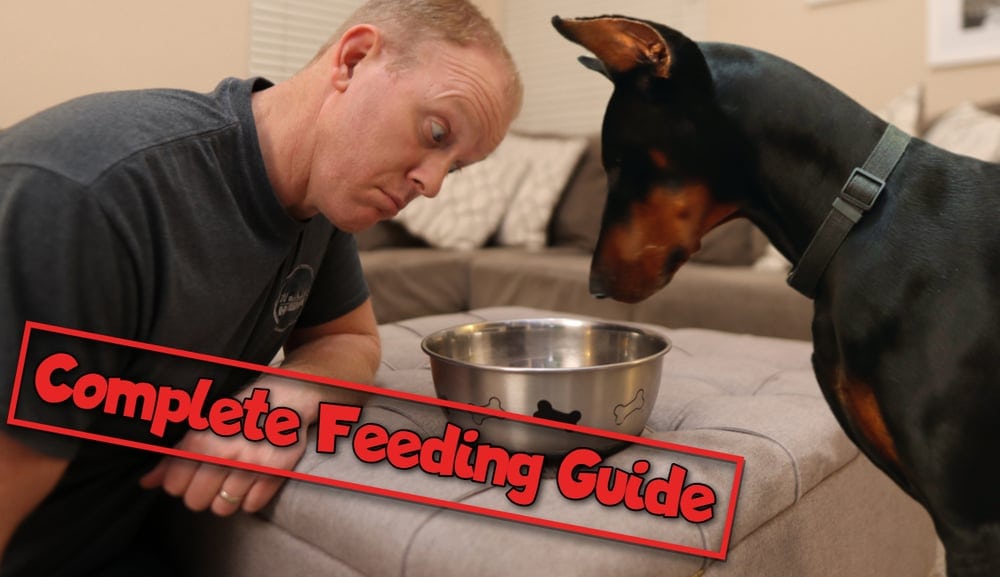 It's one of the very first questions any new Doberman owner has: how much am I supposed to feed my new Doberman? Naturally, the answer is going to vary depending on factors such as the dog's age, size, activity level, spayed or neutered status, the brand of food, and many other variables. However, below is a great guideline that seems to work for well for most Dobermans in most situations.
Most adult Dobermans will consume between 4 and 7 cups of dry dog food per day. However, a Doberman may eat between 1 and 8 cups per day depending on factors such as the dog's age, size, activity level, spay or neuter status, health, and much more.
Dobermans were bred to be guard dogs first and are designed on a genetic level to be in peak physical condition through the consumption of high-quality foods. Medium in size but muscular in build, Dobermans and their sleek athleticism require very specific requirements when it comes to their feeding quantities and times—the true answer to the question of how much to feed a Doberman is going to depend on their age, their weight, their activity level, and much more. Perhaps one of the biggest factors is what type of food you'll be using.

You can use the information to help you and your veterinarian figure out how to best feed your Doberman, depending on your situation.
Doberman Feeding Chart by Age
The chart below is my personal chart that I follow closely with my Dobermans and that I recommend to others quite often, as their Doberman-specialized dog trainer. Remember that this chart is a general guideline and should be adjusted based on your vet's recommendations and individual factors affecting your dog.
While the Daily Food Quantity (in cups) below may apply to many other dry dog foods, the chart below is the guide I use while feeding my Dobermans a diet of Purina Pro Plan (the recommended food on this site for Dobermans).
Links to these specific foods are below the chart.
Age
Daily Food Quantity (Cups)
Calories
Protein (Min)
Fats (Min)
PUPPY FOOD
2-3 months
• Males: 1 to 3
• Females: 1 to 2.5
• Males: 417 – 1251
• Females: 417 – 1043
28% – 30%
13% – 14%
4-5 months
• Males: 3 to 6
• Females: 2.5 to 5
• Males: 1251 – 2502
• Females: 1043 – 2085
28% – 30%
13% – 14%
6-8 months
• Males: 4 to 6.5
• Females: 3 to 6
• Males: 1668 – 2711
• Females: 1251 – 2502
28% – 30%
13% – 14%
9-11 months
• Males: 4 to 7
• Females: 3 to 6.5
• Males: 1668 – 2919
• Females: 1251 – 2711
28% – 30%
13% – 14%
1-2 years
• Males: 4.5 to 8
• Females: 4 to 7
• Males: 1877 – 3336
• Females: 1668 – 2919
28% – 30%
13% – 14%

ADULT FOOD

3-6 years
• Males: 4 to 7
• Females: 3 to 6.5
• Males: 1584 – 2772
• Females: 1188 – 2574
26%
12%

SENIOR FOOD

7+ years
• Males: 3 to 6
• Females: 2.5 to 5
• Males: 1125 – 2250
• Females: 938 – 1875
29%
14%
The chart above is what I feed my Dobermans and it's based on using the foods listed below.
I've found that using these amounts as a starting point, gets me fairly close to the ideal feeding amount. From there, I will adjust portions based on how my Doberman appears physically, how hungry they are at feeding time, and the recommendations of my veterinarian. I suggest you do the same, but always start with a trip to your veterinarian.
As you may see when you compare the amounts I feed my Dobermans (in the table above) to the amounts recommended by Purina on their dog food packaging (below), I feed my Doberman significantly more than what Purina recommends. In my experience, Dobermans require significantly more calories than is recommended by most dog food manufacturers.
---
Recommended Puppy Food
I consistently recommend Purina Pro Plan Focus for Dobermans for a few reasons. First off, it seems to be consistently ranked as one of the healthiest foods for Dobermans, it's used by many sport and show Doberman owners, it passes WSAVA guidelines, it's never had a mandatory food recall (that I've heard of), it contains grains, and Purina runs all their foods through feeding trials before releasing them which not every manufacturer does (look of packaging may vary).
Nutritional Information
Protein (Min) – 28%
Fat (Min) – 13% – 14%
Fiber (Max) – 4.75%
Calcium (Ca – Min) – 1.1%
Glucosamine (Min) – 500 ppm
Omega-6 Fatty Acids (Min) – 1.8%
Purina's Recommended Daily Feeding Amounts
| Adult Weight | 1 1/2 – 3 Months | 4 – 5 Months | 6 – 8 Months | 9 – 11 Months | 1 – 2 Years |
| --- | --- | --- | --- | --- | --- |
| > 50 lbs | 2/3 – 1 1/4 Cup | 2 – 2 1/3 Cups | 1 1/3 – 2 1/4 Cups | 2 1/3 – 2 1/2 Cups | 2 1/3 – 3 1/2 Cups |
| > 75 lbs | 2/3 – 2 Cups | 2 – 3 1/3 Cups | 1 2/3 – 3 1/4 Cups | 3 – 4 1/4 Cups | 3 1/4 – 5 1/4 Cups |
| > 100 lbs | 1 – 3 Cups | 2 2/3 – 5 Cups | 3 2/3 – 5 2/3 Cups | 8 – 9 2/3 Cups | 6 1/2 – 9 1/4 Cups |
| > 130 lbs | 3 – 4 1/4 Cups | 5 – 6 1/4 Cups | 5 3/4 – 6 3/4 Cups | 9 2/3 – 10 2/3 Cups | 9 1/4 – 10 1/3 Cups |
Food contains approximately 417 calories per cup.
---
Recommended Adult Food
This is essentially the adult version of the puppy food listed above. The protein and fat content are slightly less than the puppy version as now your dog should be done growing. You may also want to slightly dial back the amount of food when your puppy hits adulthood as well, depending on how they appear and what your veterinarian says. Generally, the number of times per day you feed your Doberman will also be less when they're an adult as compared to during their puppy growth stages (more on that below).
Nutritional Information
Protein (Min) – 26%
Fat (Min) – 12%
Fiber (Max) – 4.5%
Calcium (Ca – Min) – 1%
Glucosamine (Min) – 500 ppm
Omega-3 Fatty Acids (Min) – 0.45%
Omega-6 Fatty Acids (Min) – 2%
Purina's Recommended Daily Feeding Amounts
| Dog's Weight | Food Per Day |
| --- | --- |
| 51 – 75 lbs | 3 – 3 2/3 Cups |
| 76 – 100 lbs | 3 2/3 – 4 1/2 Cups |
| Over 100 lbs | 4 1/2 + 1/4 Cup for each 10 lbs body weight over 100 lbs. |
Food contains approximately 396 calories per cup.
---
Recommended Senior Food
This is also a Purina Pro Plan food, and it's also a chicken and rice formula which your dog should be used to (if you've been using the food recommended above). However, this version is specifically formulated with botanical oils and omega-3 fatty acids to keep the mind sharp. It also includes glucosamine support to help with aging joints, which can be a problem with Dobermans. Many Doberman owners report great results in their older dogs after switching to the Bright Mind formula.
Nutritional Information
Protein (Min) – 29%
Fat (Min) – 14%
Fiber (Max) – 5%
Calcium (Ca – Min) – 1%
Glucosamine (Min) – 500 ppm
Omega-3 Fatty Acids (Min) – 0.45%
Omega-6 Fatty Acids (Min) – 1.8%
Purina's Recommended Daily Feeding Amounts
| Dog's Weight | Food Per Day |
| --- | --- |
| 51 – 75 lbs | 2 1/4 – 2 3/4 Cups |
| 76 – 100 lbs | 2 3/4 – 3 1/2 Cups |
| Over 100 lbs | 3 1/2 + 1/4 Cup for each 10 lbs body weight over 100 lbs. |
Food contains approximately 375 calories per cup.
---
To find out more about why Doberman Planet recommends Purina Pro Plan dog food for Dobermans, see our page about our recommendations for the Best Food and Treats for Dobermans here.
Feeding Raw Diets
On Doberman Planet we recommend mostly kibble food such as Purina Pro Plan mostly due to cost, convenience, and a well-tested balance of nutrients. Also, we don't recommend feeding a raw diet for the average Doberman owner since it's easy to inadvertently provide your dog with the wrong portion of vitamins and nutrients since most of us aren't canine nutritionists.
However, there are other great options that are certainly fresher and may even be healthier such as the Ollie dog food service shown above. This service delivers fresh human-grade "real food" for your dog straight to your door that's veterinarian formulated, made custom to the Doberman breed, and delivered on a regular schedule. If you don't mind spending a touch more money than you would with kibble to really spoil your dog, take a look at Ollie dog food service (click the image directly below). You can also see our video on Ollie food on YouTube here.
Number of Meals per Day by Age
Hopefully, by using the information above and speaking with your veterinarian, you have developed a plan for how much you will feed your Doberman each day. Now you need to decide how many times per day you'll be feeding your dog.
Doberman puppies from 6 to 12 weeks of age should have four meals per day, young Dobermans from 12 weeks to 1 year should have three meals per day, and adult Dobermans over 1 year of age should have two meals per day.
The general rule is that eating more smaller meals each day is better when the dog is young and still developing. Below is a typical progression for a Doberman puppy as they grow.
| | Age | Number of Meals per Day |
| --- | --- | --- |
| Puppy | 6 Weeks – 12 Weeks | 4 |
| Young | 12 Weeks – 1 Year | 3 |
| Adult | 1 Year – 7 Years | 2 |
| Senior | 7 Years or More | 2 |
Dobermans are highly routine-focused dogs. So ideally, you'll be feeding your dog at the same time every day. This helps to reduce their anxiety around feeding time and especially helps puppies begin to feel more comfortable in their new homes.
It's also important to make sure your Doberman is provided with plenty of fresh water. Dobermans love to drink a lot of water throughout the day. Ensure that you're cleaning out your Dobie's food and water bowls regularly to avoid developing any bacteria that may be harmful to your dog. This is often thought to be one of the causes of the small red "acne" looking bumps Dobermans often get underneath their chins when they are young.
Optimal Feeding Times
It's best to spread out your Doberman's meals evenly throughout the day. Below are the feeding times I use each day for my Dobermans, as an example.
Feeding Schedule by Age
6 to 12 Weeks of Age – 7:00am, 11:00am, 3:00pm, and 7:00pm.
12 Weeks to 1 Year of Age – 7:00am, 1:00pm, 7:00pm.
1 Year of Age and Older – 7:00am, 7:00pm.
While I try to stick to this schedule as much as possible, it does vary a bit depending on the schedule of those in my household. However, it's good to stay as consistent as possible.
Adjusting Your Doberman's Food Intake
As you continue feeding your dog, you'll inevitably need to make adjustments to the quantity of food you're providing. The best input you can get for this is from your veterinarian. However, you can also gain some insight into whether you may need to be feeding your dog more or less based on your dog's physical appearance, apparent hunger level at feeding time, stage of growth, spayed/neuter status (spayed or neutered dogs generally require fewer calories), and activity level.
If you want a general idea on how your Doberman should be progressing in terms of weight based on age, as well as how they should appear physically if at an appropriate weight, see the Doberman Weight: Growth Curve and Average Weights resource here.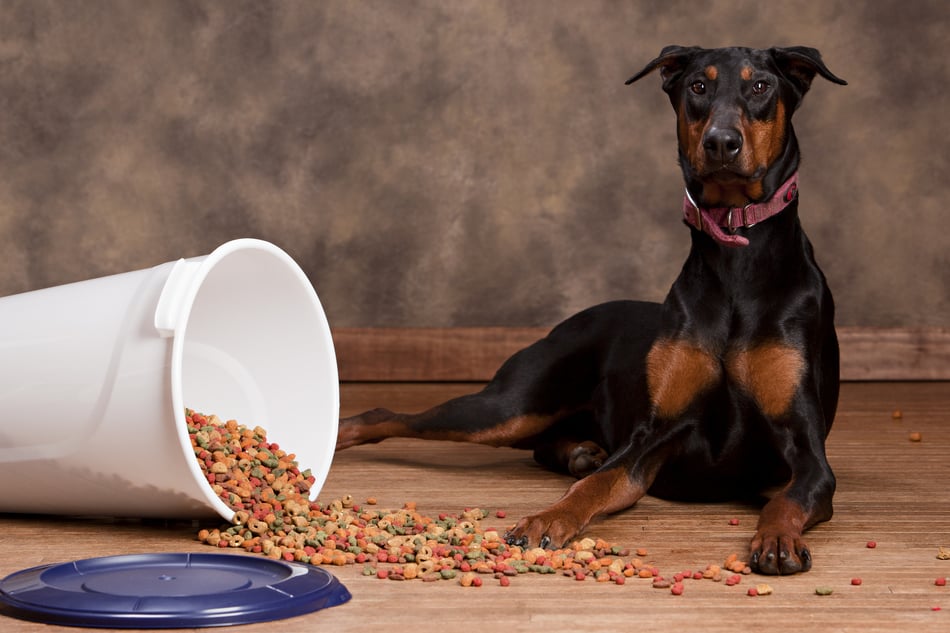 Transitioning to a New Food
When transitioning your Doberman to another type of dog food, it should be done gradually over the course of several days or weeks while watching for signs of an upset stomach.
Dobermans notoriously have sensitive stomachs so although most Doberman owners will change foods multiple times during their dog's lifetime, they generally do it quite slowly. Sometimes, changing your Doberman's food will cause your Doberman to suffer from an upset stomach and/or diarrhea. These issues can generally be minimized by using a slow transition schedule such as the one below.
| | Old Food | New Food |
| --- | --- | --- |
| Days 1 – 2 | 90% | 10% |
| Days 3 – 4 | 75% | 25% |
| Days 5 – 6 | 50% | 50% |
| Days 7 – 8 | 25% | 75% |
| Days 8 – 10 | 10% | 90% |
| Day 10 + | 0% | 100% |
This is one area where it's probably ok to be a bit over-cautious and the schedule above is a bit slower of a transition than many dog owners use. But given the hyper-sensitivity of the Doberman's stomach, being over-cautious here isn't a bad idea.
If you're bringing home a new Doberman, it's a good idea to keep the dog on the same diet they had at their previous home. Changing homes (and especially owners) is stressful on a Doberman and it's best to keep their diet the exact same for at least a few days while they get settled into their new environment to help keep their stress to a minimum. This goes for new puppies from breeders or new adult Dobermans you may adopt.
Make sure to consult with your veterinarian if your dog has any special nutritional needs or if you see any signs of intestinal or stomach upset such as diarrhea, vomiting, frequent gulping, loss of appetite, lethargy, licking the air, or frequently licking of lips.
Health Considerations
Bloat
One of the biggest issues when it comes to Dobermans and feeding habits is a condition called bloat — this is a condition where the stomach fills with gas or air, flips on itself, and cuts off circulation. It's a life-threatening condition and the exact reasons why it happens are still a mystery.
However, it could have to do with over-eating, according to the DPCA. We do know that it's an issue for bigger, deep-chested dogs and the Doberman is certainly one of these breeds.
A [Doberman] with bloat will have a distended abdomen and may appear restless and depressed and have dry heaves. Bloat most often occurs to middle-aged to older dogs.

Dr. Cathy Greenfield, Small Animal Surgeon at the University of Illinois Veterinary Teaching Hospital
Symptoms
If you suspect your Doberman has bloat, take him to your vet immediately. Pressure on the stomach will need to be relieved, and in most cases, emergency surgery to untwist the stomach will need to be performed. Below are some common symptoms of bloat.
Enlarged abdomen.
Rapid, shallow breathing.
Pacing and general anxiousness.
Pale nose, mouth, and gums.
Drooling.
Non-productive vomiting.
Collapsing.
Prevention
Bloat is common in Dobermans and although the exact causes aren't known, there are some things that owners can do to reduce the chances of their dog developing bloat, and a lot of it has to do with their meal times.
Limit Physical Exercise 1 Hour Before an After Eating – Eating a large meal and then engaging in a high level of physical exercise immediately after has shown to increase the chances of bloat. Also, if your Dobie is panting for air because they just exercised before eating, it will increase the chances that they ingest more air while they eat, also increasing the likelihood of bloat.
Slow Down Eating – Dog's who are fast eaters have a five times higher risk of developing bloat as compared to slow eaters, according to the AKC (source). You can use a snuffle mat, puzzle toy, or slow-feeder bowl to help reduce the speed at which your dog eats.
Have Fresh Water Available – Water helps your dog digest their food and also does the important job of helping transport nutrients to the rest of the body. Dobermans can be picky about always needing fresh, clean water. So even if there is water in their bowl, it doesn't hurt to refresh it regularly to keep it clean. Also, don't let your dog drink too much too quickly immediately after a meal either as that has also been shown to increase the risk of bloat.
Smaller Meals, More Often – This prevents your Doberman from carrying around large quantities of food in their stomach at once, reducing their chances of developing bloat.
If you want more ideas on how to prevent bloat, take a look at the video I did all about preventing bloat in Dobermans here.
Canine Dilated Cardiomyopathy (DCM)
With a name like "Canine Dilated Cardiomyopathy," it's easy to think that DCM is too complicated an issue to grasp. But simply put, DCM is an enlarged heart, and although it's generally thought to have a genetic cause in Dobermans, there may be a connection to the food you feed your Doberman as well.
In our article, Doberman Pinscher Dilated Cardiomyopathy (DCM) Simplified, we show how the FDA has linked DCM to certain grain-free foods. To combat this, it's important that you feed your dog a high-quality dog food that contains grains.
Symptoms
Most early symptoms of Dilated Cardiomyopathy are only detectable via the use of an echocardiogram or 24-hour Holter exam by your veterinarian. Early detection is vital when it comes to managing this disorder. However, later symptoms include:
Lethargy
Weakness
Collapse/fainting
Unusual heart sounds or murmurs
Irregular heart rhythm or arrhythmias
Faster breathing
Labored breathing
Increased heart rate
Loss of appetite
Weight loss
Coughing
Abdominal swelling
Pale gums
Sudden death
Prevention
There isn't a lot we can do just yet to prevent DCM in Dobermans, mostly because although science has discovered some of the risk factors of this disorder, we've yet to identify the exact cause.
Feeding a high-quality dog food that contains grains is one of the steps that may reduce the likelihood of developing bloat. Regular checkups at your veterinarian are also important for early detection and management of the disease.
You can also figure out some of your Doberman's risk factors for developing DCM during their lifetime using a simple at-home DNA test kit that includes the DCM1 and DCM2 tests. You can learn all about the test kit we recommend for this in the Doberman Planet Guide for DNA Health Testing here.
Multiple Dog Considerations
It's best to feed a Doberman separately from other dogs living in the same household. This is especially true if the other dog is of the same sex. Same-sex aggression can be an issue in Dobermans.
Dobermans, like many breeds, can be protective of their food, and most conflicts between dogs living in the same household are surrounding attention or food. Although some Doberman owners can get along for a long time without conflicts while feeding their dogs together, it only takes one of these incidents for serious injuries to occur.
Related Questions
Why is my Doberman always hungry? If your Doberman is always hungry, it might mean that their bodies are unable to absorb the correct amount of nutrients from their food. This could be because they're eating too quickly or there's a more serious problem with their digestive tract. Speak to your veterinarian.
How can I slow my Doberman down while eating? If your Doberman is eating too quickly, consider investing in a slow-feed or maze bowl to slow them down. You can also feed them from a cookie pan or muffin tin to help slow things down.