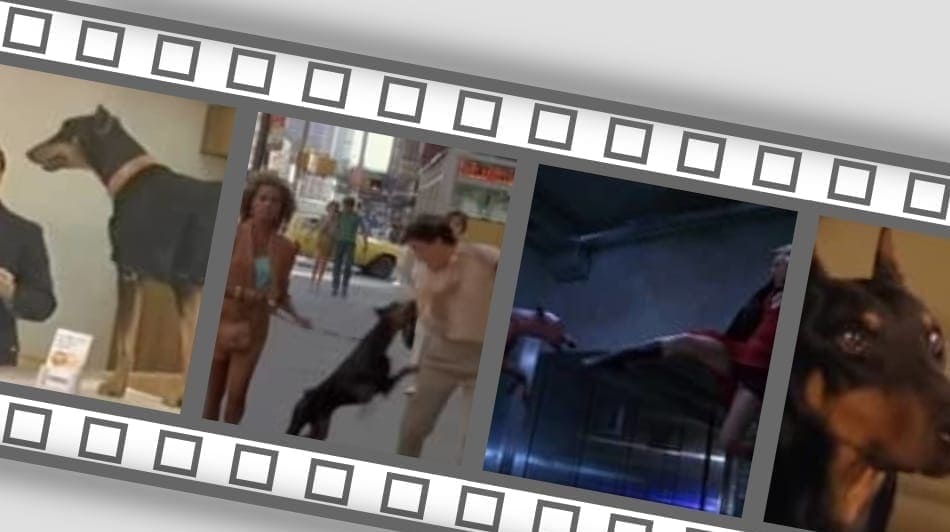 The Doberman is very often used in film and television. After all, they're impressive, easily trainable, and imposing dogs. Unfortunately, they're often portrayed as vicious animals and commonly take up a "guard dog" role despite the modern-day Doberman possessing a very friendly disposition.
Contrary to what you see in the movies, today's Doberman is a loving, loyal, and gentle family dog who also retains many of its protective instincts. I wrote all about how dangerous these dogs really are here, to help answer some common questions about the reality of Doberman aggression.
Below is an ever-growing list of movies and television productions that feature Dobermans along with a brief summary of each feature and whether the dog's role was a major role, such as the main character, or more of a minor role.
Movies Featuring Dobermans
Alex and the Doberman Gang (1980)
Year: 1980
Type: Made for TV movie
Starring: Jack Stauffer, Taurean Blacque and Cindy Acker
Role: Major

An incompetent private investigator inherits five Doberman Pinschers. Initially the dogs wreck havoc on his life but eventually they become trusted companions and help Alex to solve a multitude of cases.

The Amazing Dobermans (1976)
Starring: Barbara Eden and James Franciscus
Role: Major

An ex-con man has five trained Dobermans who he uses to help a Treasury Department agent bring a racketeer and his gang to justice. This is the third movie in a three-movie series. The first two are The Doberman Gang (1972) and The Daring Dobermans (1973), which are also on this list.

America's Sweethearts (2001)
Starring: John Cusack, Julia Roberts, and Billy Crystal
Role: Minor

In this romantic comedy, a publicist attempts to control an escalating situation where two famous movie stars are going through a nasty public divorce. In one hilarious scene, a Doberman attacks the window washer and drags him off. Later, the Doberman returns to stare down Lee Phillips (played by Billy Crystal). There is at least one more comedic scene involving the Doberman in this hilarious comedy.

Beethoven (1992)
Starring: Charles Grodin, Bonnie Hunt, and Dean Jones
Role: Minor

The Newton family finds new love with their St. Bernard puppy, Beethoven. This classic comedy is also filled with drama as the town's veterinarian kidnaps dogs to use for experiments. In one scene, henchmen Vernon and Harvey think they've outrun a gang of dogs exacting their revenge on them when their joy suddenly turns to fear once they find themselves cornered by four angry Dobermans in a local junkyard.

Beverly Hills Chihuahua (2008)
Starring: Drew Barrymore and George Lopez
Role: Major

A pampered Chihuahua (Chloe) who is used to the good life in Beverly Hills, but gets lost in Mexico while trying to get home and finds herself tossed into a dogfighting ring. There she meets and befriends Delgado, a former police K-9. Chloe also runs into Delgado's arch enemy, Diablo the Doberman (Edward James Olmos) and is put into the dog fighting ring with Diablo before Delgado saves the day. Dogs can talk in this adventure comedy.

The Boss (2016)
Starring: Melissa McCarthy, Ben Falcone, Steve Mallory, and Peter Dinklage
Role: Minor

A wealthy businesswoman named Michelle Darnell (played by Melissa McCarthy) who has risen to the top falls back to the bottom when she is arrested for insider trading. This comedy follows her attempts at returning to the top. Her rival in the business world is a man by the name of Renault (played by Peter Dinklage), who Michelle also used to date. Renault is obsessed with Japanese culture and samurais. He also has two menacing-looking guard dogs which are both Doberman Pinschers. These dogs are seen with him while he's plotting against Michelle and later in the movie the two Dobermans chase Michelle and her friends when they break into his home.

The Boys from Brazil (1978)
Starring: Laurence Olivier, Gregory Peck, and James Mason
Role: Minor
In this classic drama, Barry Kohler is a Nazi hunter who tracks down a group of former SS officers. Determined to thwart a plat to bring the Nazi party back into power, Barry is taken to many different locations in both Europe and the U.S. In one particularly bloody scene, our hero seems done-for when a pack of Doberman's surrounds the villain, Dr. Josef Mengele (played by Gregory Peck) disarming him. Eventually the dogs maul Dr. Mengele to death.
Chinese Zodiac (2012)
Starring: Jackie Chan
Role: Minor

A team of mercenaries is assembled to recover lost artifacts from the Old Summer Palace, which was looted in the 1800s. The leader of the team is Asian Hawk (played by Jackie Chan). In one scene, Asian is chased through a maze by a pack of vicious Dobermans.

The Daring Dobermans (1973)
Starring: Charles Robinson, Joan Caulfield, and Tim Considine
Role: Major

Three men and a young Native American boy train a pack of Dobermans to steal money from the campaign of a famous politician. This is the second movie in a three-movie series. The first movie in this serious is The Doberman Gang (1972) and the third is The Amazing Dobermans (1976), which are also on this list
The Doberman Gang (1972)
Starring: Byron Mabe, Hal Reed, and Julie Parrish
Role: Major

An ex-con and former waitress train a pack of six Dobermans to rob a bank for them after a previous failed attempt at robbing a bank. The Dobermans are all named after famous bank robbers: Pretty Boy Floyd, Baby Face Nelson, Ma Barker, Dillinger, Bonnie, and Clyde. This is the first movie in a three-movie series. The other two are The Daring Dobermans (1973) and The Amazing Dobermans (1976), which are also on this list.
Embryo (1976)
Starring: Rock Hudson, Barbara Carrera, and Diane Ladd
Role: Minor

A troubled geneticist named Dr. Paul Holliston (played by Rock Hudson) loses his wife in a car crash. One night, Dr. Holliston accidentally hits a pregnant Doberman Pinscher with his car. The dog eventually dies but Dr. Holliston is able to save one of her puppies by gestating it into an artificial uterus. Due to limitations in his approach, Dr. Holliston is forced to find a way to dramatically shorten the gestation period of the fetus. He eventually does develop a method to do this and the dog grows to be an adult dog in just a few days. Eventually, the dog becomes well trained but slowly develops a very aggressive streak. Eventually, Dr. Holliston uses his technique on a human fetus that grows to be an adult, 22-year-old woman in a very short amount of time. Dr. Holliston names her "Victoria" but unfortunately, she also becomes somewhat violent.
Eyes of an Angel (1991)
Starring: John Travolta, Tito Larriva, and Ellie Raab
Role: Major

Bobby is a single dad trying to raise his 10 year old daughter on his own. He gets tangled up with some mobsters in this Drama while his daughter finds a severely wounded Doberman who was tossed off a bridge after losing a dog fight, nursing it back to health. This dog won't leave the girls side despite Bobby's attempts of leaving the dog behind throughout the movie. The Doberman always finds its way back to the little girl who saved his life. This is supposedly based on a true story.

Father of the Bride (1991)
Starring: Steve Martin, Diane Keaton, and Martin Short
Role: Minor

George Banks (Steve Martin) is having trouble accepting that his little girl is now about to be married to fiance Bryan MacKenzie, who she's only known a short time. This classic comedy features "The MacKenzie Dogs" which live at the home of Bryan's parents. These dogs include two Doberman Pinschers which certainly add to a few comedic situations at the household. This is the first movie in a two part series. The second movie is "Father of the Bride Part II" (1995) which is also on this list.
Father of the Bride Part II (1995)
Starring: Steve Martin, Diane Keaton, and Martin Short
Role: Minor

George Banks (Steve Martin) is having trouble accepting that his little girl is now pregnant and about to have a baby of her own. At the same time, George's wife Nina Banks becomes pregnant. The "The MacKenzie Dogs" (two Doberman Pinschers) have a bit larger roll in this movie than they did in part one. These dogs are portrayed as exceptionally loving to their owner but a bit hostile towards George. Many classic scenes involve the two Dobermans including the scene where they are snoozing on a bed with George's wife Nina and won't allow him near the bed. After briefly challenging the dogs, George decides it would be better to sleep on the floor. This is the second movie in a two part series. The first movie is "Father of the Bride" (1991) which is also on this list.

Fletch (1985)
Role: Minor
Starring: Chevy Chase and Joe Don Baker

Irwin "Fletch" Fletcher (Chevy Chase) has a job as a newspaper reporter in Los Angeles, but gets into some sticky situations after being offered $50,000 to kill a millionaire. In one scene, Fletch is attempting to break into a home during his investigation into the case when he is confronted by an especially intelligent Doberman guard dog who works door knobs with his mouth to chase Fletch through, and eventually out of, the home.

Halloween 5: The Revenge of Michael Myers (1989)
Starring: Donald Pleasence, Ellie Cornell and Danielle Harris
Role: Minor

After Michael Myers awakes from a year-long coma, he becomes obsessed with getting back to Haddonfield to kill his niece Jamie who is now in a mental institution. Psychiatrist Dr. Sam Loomis teams up with Sheriff Meeker to stop Michael from carrying out his murderous plan. Jamie's dog Max (a Doberman) is being cared for by Tina Williams while Jamie is institutionalized. In one scene while walking home with Tina and her friend Rachel, Max noticed the villain (Michael Myers) lurking and watching the two girls when no one else had. The girls didn't take notice of Max's barking. Max had a special connection with his owner Jamie even though they weren't able to be together and at one point Jamie sensed that something was wrong with her Doberman Max and asked for help finding him to make sure he was ok. Unfortunately, Max is killed later in the movie by the villain, Michael Myers.
Hugo (2011)
Starring: Asa Butterfield, Christopher Lee, and Chloë Grace Moretz
Role: Major

This movie takes place in Paris in 1931 where a young boy named Hugo Cabret (played by Asa Butterfield) lives in the walls of a train station. He spends his days maintaining the clocks of the station using his impressive mechanical skills taught to him by his deceased father. He is on a quest to unlock the secrets of a mechanical device that he believes holds a message from his father. The station's inspector (played by Sacha Baron Cohen) has a very intelligent Doberman sidekick who has multiple important parts in this adventure drama.

In the Mouth of Madness (1995)
Starring: Sam Neill, Jürgen Prochnow, Julie Carmen, and Charlton Heston
Role: Minor

P.I. John Trent (played by Sam Neill) is hired by book publisher Jackson Harglow (Charlton Heston) to find the whereabouts of on of Jackson's horror writers, Sutter Cane (Jürgen Prochnow) after he disappeared just before the long-anticipated release of his latest horror novel. In one scene, John Trent and his assistant Linda come upon an intense confrontation in a small town in New Hampshire at a local church as they're searching for Sutter Cane. They see a group of shotgun-wielding townsfolk confronting Mr. Cane at the nearby church demanding the return of one of the townsfolk's children who had gone missing. The townsfolk are eventually sent running after a pack of about 6 attack dogs (Dobermans) are released on them. The dogs send the entire group scrambling to get to their cars and they maul a few people in the process.
The Invisible Man (2020)
Starring: Oliver Jackson-Cohen, Elisabeth Moss, and Harriet Dyer
Role: Minor
Cecilia Kass (played by Elisabeth Moss) is an aspiring architect who's wealthy, abusive, and controlling husband, Adrian Griffin (Oliver Jackson-Cohen) has her captive in a high-tech mansion along the coast. In one of the early scenes in the movie, Cecilia escapes from the mansion where she's being held by her husband. During her escape while her husband is asleep, she interacts with their dog, a Doberman named Zeus. She removes a shock collar from Zeus on her way out and appears to want to take the dog with her. But as she's leaving, Zeus accidentally bumps a car in their garage setting off it's alarm, threatening to wake Cecilia's husband. She is forced to leave in a hurry, leaving Zeus behind and apologizing to him on the way out. The movie is just getting started at this point but the dog doesn't make an appearance again.
It Shouldn't Happen To A Dog (1946)
Starring: Carole Landis, Margo Woode, and Allyn Joslyn
Role: Major

A journalist investigating various crimes ends up working together with Rodney the Doberman to take down the Valentine gang. The Doberman proves to be an integral part of bringing justice to those breaking the law. This movie came out around the end of World War 2 when GI's were returning home, often with their Doberman war dogs.

K-911 (1999)
Starring: Jim Belushi, James Handy, and Christine Tucci
Role: Major

Detective Mike Dooley (played by Jim Belushi) and his German Shepherd partner, Jerry Lee, usually are busting criminals. But now Detective Dooley is being pursued by a crazed stalker. When it becomes clear that Detective Dooley's K-9 is a bit too old for this work, they're partnered up with a younger K-9 team which includes Detective Welles and her dog Zeus, a young, strong Doberman Pinscher.

Moonraker (1979)
Starring: Roger Moore, Michael Lonsdale and Lois Chiles
Role: Minor

James Bond is investigating the theft of a space shuttle when he uncovers a plot to commit mass murder. This plot involves Drax Industries, and the man behind the company, Huge Drax.  In one scene, the secretary to Hugo Drax, Corinne Dufour (played by Corinne Cléry), gets terminated from her job by Hugo after he suspects she helped Mr. Bond. Unfortunately, Hugo is serious about how he fires his employees and two dogs are sent after Corinne and she is presumed killed. Many believe that these two dogs in the film are Dobermans and at glance, they do look very similar. But on close inspection, they appear more likely to be Beaucerons. The structure of their tails and their unique coat give credence to this theory. I have included this film on this list however since many people mistake the dogs in this film for Dobermans and they look so similar that it's possible that even the film's director may have been going for the "Doberman look" with the dogs he chose. These dogs make a few other appearances throughout this film, including at the Drax estate.
The Naked Gun 2 ½: The Smell of Fear (1991)
Starring: Leslie Nielsen, Priscilla Presley, OJ Simpson, and George Kennedy
Role: Minor

Detective Frank Drebin (Leslie Nielsen) is attempting to save a kidnapped scientist in this classic comedy. During one scene, Frank is trying to break into a waterside warehouse where conspirators to this plot are meeting. While attempting to gain entry, he runs into vicious Doberman guard dogs. Frank decides to climb onto the roof using a grappling hook and unbeknownst to him, his hook grabs the collar of a Doberman guard dog on the other side of the building. As Frank climbs up the rope, he is also pulling the Doberman up to the roof where the two meet, and the chase is on!
Nobody's Fool (1994)
Starring: Paul Newman, Bruce Willis, and Jessica Tandy
Role: Minor

This heartwarming comedy is about a man coming to retirement age who is forced to reflect on his own life and the choices he's made. In a scene early on in the film, the main character Sully (played by Paul Newman) goes to Tip Top Construction Company to get money that is owed to him and ask for work. When entering the yard, he is confronted by a large Doberman guard dog. In a later scene, Sully returns to the yard and feeds the guard dog hamburger meat filled with painkillers. The dog becomes drugged and is no longer a threat. A few additional scenes later on in the film feature the Doberman, who is now afraid of Sully and wants nothing to do with him.

The Pick-Up Artist (1987)
Starring: Molly Ringwald, Robert Downey Jr., and Dennis Hopper
Role: Minor

In this comedy, Jack Jericho (Robert Downey Jr) is a bit of a womanizer who spends his time practicing his pickup lines in the mirror and chasing women he sees out in public, all in a quest to get a new phone number to add to his list. In one scene, Jack attempts to pick up a woman he sees walking down the street with her Doberman Pinscher named Caligula. When Jack asks the woman if the dog is friendly, she responds "It depends" and continues walking. Caligula certainly isn't happy at Jack's presence and helps to keep Jack's pick up attempt brief.

Raising Arizona (1987)
Starring: Nicolas Cage, Holly Hunter, and Trey Wilson
Role: Minor

In this classic comedy, an ex-con named H.I. McDunnough (played by Nicolas Cage) and an ex-cop Edwina (played by Holly Hunter) marry and soon find out that they're unable to have a child of their own. So they hatch a plan to kidnap one of Nathan Arizona's quintuplets. In one scene, H.I. McDunnough goes for a "diaper run" and quickly finds himself being pursued by the authorities. While running from the police, he jumps a fence and finds himself confronted by a vicious Doberman Pinscher. The chase is on from there and more laughs ensue as the dog doesn't easily give up.

Remo Williams: The Adventure Begins (1985)
Starring: Fred Ward and Joel Grey
Role: Minor

The death of an NYPD cop, Remo Williams (Fred Ward) is faked and he is recruited into a secret society dedicated to preserving the constitution of the United States. One of Remo's investigations takes him to a warehouse where he is confronted by three, exceptionally intelligent Dobermans. After thinking he's gotten away from the three Dobermans, he finds out that they won't easily stop pursuing him and they work together in some ingenious ways to pursue Remo.

Resident Evil (2002)
Starring: Milla Jovovich and Michelle Rodriguez
Role: Minor

Alice (played by Milla Jovovich) is stuck in an underground research facility called "The Hive", which is owned and operated by the Umbrella Corporation. Alice and a small group of survivors are pursued by zombies infected by the T-Virus. In one famous scene, Alice is cornered by multiple vicious "Cerberus" Dobermans (dogs who were infected with the T-Virus during experimentation). Alice makes quick work of these imposing dogs.

Resident Evil: Afterlife (2010)
Starring: Milla Jovovich, Ali Larter, and Wentworth Miller
Role: Minor

Alice is attempting to bring down the evil Umbrella Corporation again. In this sequel, "Cerberus" the zombie Dobermans, are back. But this time the T-Virus has caused heavy mutations in the dogs. They're just as vicious as ever and attempt to thwart the hero, Alice (played by Milla Jovovich) during a confrontation with one of the Umbrella Corporation's highest-ranking members, who is also infected with the T-Virus.

Ruthless People (1986)
Starring: Bette Midler and Danny DeVito
Role: Minor

Sam Stone (played by Danny DeVito) marries Barbara (played by Bette Midler) who is from a wealthy family. Sam is hoping that when Barbara's father dies, they'll inherit a significant sum of money. However, Barabar's father refuses to die and eventually Sam decides to kill his wife to collect her life insurance money. Kidnappers take Barabara before he is able to carry out his plan. This comedy has a bunch of twists and turns, but during one famous scene, Sam brings home a new friend for his wife's toy poodle (who he's not very fond of). The new friend is "Adolph" the Doberman, who he hopes will take care of the poodle.
Street Hunter (1990)
Starring: Steve James, Reb Brown, and John Leguizamo
Role: Major

An ex-cop and vietnam war veteran, Logan Blade (played by Steve James) now works as a bounty hunter in New York City bringing criminals to justice to collect reward money. Logan lives in a van and is known for his slick trench coat, cowboy hat, and his sidekick Doberman "Munch". Col. Walsh, a member of the Los Diablos Gang, kills a police officer who is also a close friend of Logan's. This spurs Logan and Munch the Doberman to go on a quest to bring Col. Walsh to justice for his many crimes.

Suburbia (1983)
Starring: Bill Coyne, Chris Pedersen and Jennifer Clay
Role: Minor

This thriller is about a group of runaways that band together and rely on each other like family even in the face of tragedy. The opening scene involves a hitchhiker, a mother, and a young child getting stranded along the road after a tire blow out. While making a call at a phone booth the toddler is attacked by a stray Doberman. Later in the film, Dobermans are seen again as being part of the vicious pack of stray dogs inhabiting the area. Jim Tripplett (played by Lee Frederick) and Bob Skokes (played by Jeff Prettyman) drive the area shooting at these stray dogs in retaliation for the killing of the toddler in the opening scene.

Tenbrae (1982)
Starring: Anthony Franciosa, Giuliano Gemma
Role: Minor

This movie is also titled "Unsane" depending on the specific release. A writer arrives in Rome and soon discovers that his novels are being used as inspiration for carrying out horrific murders in this thriller. The murder is bent on killing all people associated with the writer's latest book. In one scene, an incredibly talented Doberman is used to pursue Maria Alboretto (played by Lara Wendel). The dog performs some pretty impressive physical stunts during the shooting of this scene.

They Only Kill Their Masters (1972)
Starring: James Garner and Katharine Ross
Role: Major

In this classic mystery film, a woman has been murdered and the crime is being investigated by the local Sheriff. The woman's own dog (a Doberman Pinscher) is suspected of committing the crime but evidence leads authorities to many possible suspects. Did the loyal dog actually turn on it's owner, or is someone else to blame?

Trapped (1973)
Year: 1973
Type: Made for TV movie
Starring: James Brolin, Susan Clark, and Earl Holliman
Role: Major

Chuck Brenner (played by James Brolin) is mugged in a downtown department store just before closing. Unfortunately, the encounter left Chuck unconscious for a short time. When he wakes up, the store is closed and locked up for the night. Six vicious Doberman guard dogs are let loose in the store and confront him. He is in for the fight for his life while being trapped inside this store.

True Lies (1994)
Starring: Arnold Schwarzenegger, Jamie Lee Curtis, and Tom Arnold
Role: Minor

A secret agent named Harry Tasker (played by Arnold Schwarzenegger) travels the world fighting terrorists while also leading a double life as a family man. In one of the opening scenes, two Doberman guard dogs are released to subdue the hero of the movie. Arnold, of course, makes quick work of the two dogs by banging their heads together as they simultaneously jump at him.
Television Shows Featuring Dobermans
Columbo – "How to Dial a Murder" (Season 7, Episode 4)
Year: 1971 – 2003
Type: Television series
Starring: Peter Falk, John Finnegan, Bruce Kirby, and Mike Lally
Role: Minor

A behavioral psychologist named Dr. Eric Mason (played by Nicol Williamson) is under investigation by Columbo (Peter Frank) after his wife dies under what appears to be suspicious circumstances. This episode features vicious Dobermans that have been trained by Dr. Mason to kill on command using a telephone.
Magnum P.I. – (Multiple Episodes)
Year: 1980 – 1988
Type: Television series
Starring: Tom Selleck, John Hillerman and Roger E. Mosley
Role: Minor

Dobermans Zeus and Apollo (aka "The Lads") are guard dogs of the estate owned by Robin Masters and the character Jonathan Quayle Higgins III aka "Higgins" (played by John Hillerman) was the manager of the estate. These vicious Doberman guard dogs appear in multiple episodes in this series.

Peaky Blinders – (Season 3, Episode 2)
Year: 2016
Type: Television series
Starring: Cillian Murphy, Ralph Ineson and Paddy Considine
Role: Minor

In this episode, Father Hughes who is an agent for a group desperate to stop a communist revolution in their country, uses a Doberman during an attempt at intimidating Tommy Shelby (played by Cillian Murphy).

Sons of Anarchy – "Patch Over" (Season 1, Episode 4)
Year: 2008
Type: Television series
Starring: Charlie Hunnam, Katey Sagal and Mark Boone Junior
Role: Minor

During this episode of Sons of Anarchy, Tig and Juice attempt to steal a truck to use for transporting weapons. The truck they are looking to steal is inside a fenced yard with a Doberman guard dog. Juice attempts to drug the guard dog by feeding it meat laced with two grams of methamphetamine. After things go sideways and the dog gives the two characters a run for their money, it becomes clear to Tig that Juice gave the dog Methamphetamine, and not any kind of tranquilizer. Tig says a classic line during this episode to Juice, "You fed crystal to a killer Doberman, man?! Are you retarded?!"

NOTE: Much of the media on this page, such as movie screenshots, cover art, and other images, are not owned by Doberman Planet. These items are used in strict compliance with the Fair Use Doctrine (17 U.S.C. § 107). For more information, see "Terms and Conditions" near the bottom of this page.