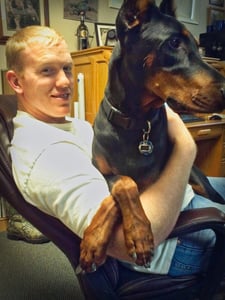 My name is John Walter and I'm the founder of DobermanPlanet.com. I fell in love with Doberman Pinschers long before I ever owned one. I loved how elegant, strong, and alert they are. Then when I learned how intelligent they were, I found myself even more excited about the idea of owning one someday.
In December of 2012, I bought my first house and I was so excited because this one had a backyard suitable for a Doberman. So in February of 2013, I found a Doberman breeder in the Sacramento area of California who had a new litter of puppies. Both parents of this litter were certified purebred European Dobermans. I was the first to see the litter, so I was able to have the pick of the litter! Each puppy in the litter was wearing a different colored collar.
Soon after arriving, my girlfriend at the time pointed to one puppy with a red collar that would always break out from the pack of his brothers and sisters and come to us when we called out to the group. The red-collared Doberman pup seemed to be incredibly focused on us and time after time, he would be the first to come when we called out for the puppies. My wife knew she wanted that red-collared puppy right away.
I was a little more methodical and insisted on running each puppy through a series of "puppy tests" to see what their individual personalities were like. I scored each pup on a series of tests, added up their scores, and guess which one scored the highest? The puppy with the red collar!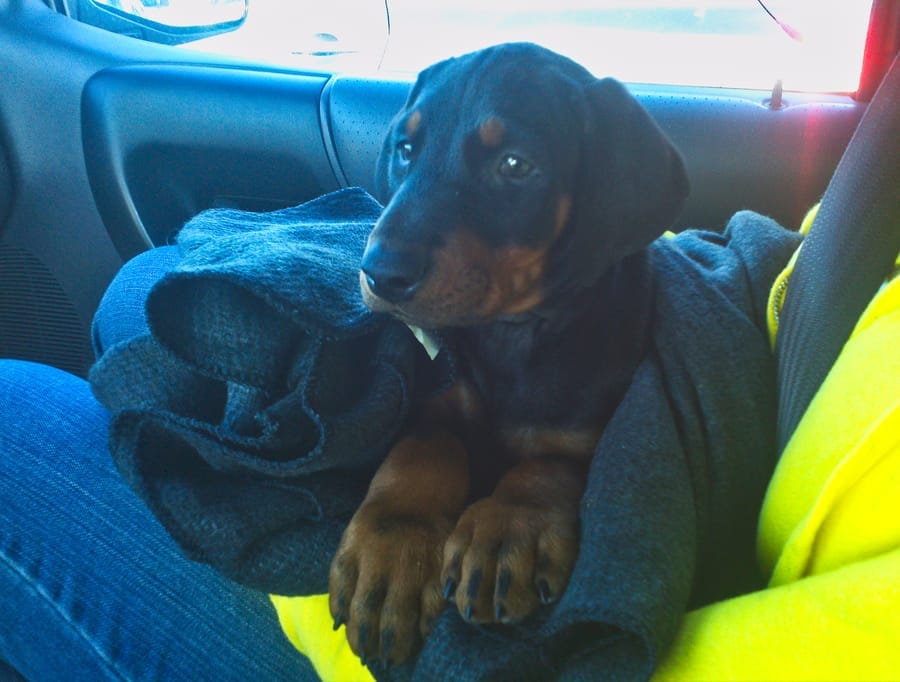 Our New Family Member
We brought home our new Doberman "Cooper" in February of 2013. Since that time, I've been enamored with this amazing breed. As a writer, trainer, and avid researcher, I've made it my mission to learn as much as possible about the breed, network with other Doberman owners, and spread knowledge about how wonderful these dogs are.
After struggling through the tough puppy stages, my wife and I found ourselves continually growing closer to Cooper as the years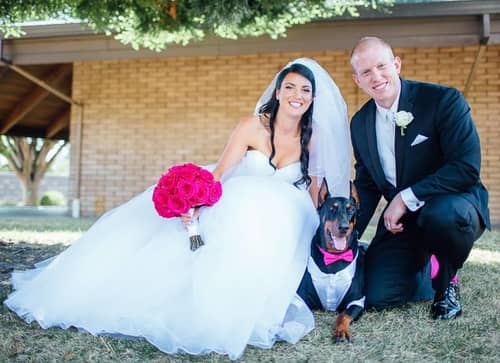 went on. He even had a featured spot at our wedding! We now have our first child and Cooper is full grown and weighs in at about 90 pounds. I'm amazed every day by what an amazing family dog a Doberman can make. Cooper is incredibly gentle with our baby boy, loves being with us at all times, and is very in tune with what we expect of him. We never have to worry about him running off when we take him out somewhere off-leash.
I've found Dobermans to be gentle, kind, great protectors, and highly intelligent. They don't shed much, are easy to take care of, and they just want to be with their family as much as possible. That's why many people refer to Dobermans as "Velcro Dogs." They are always stuck to your side!
My Unexpected Adventure Companion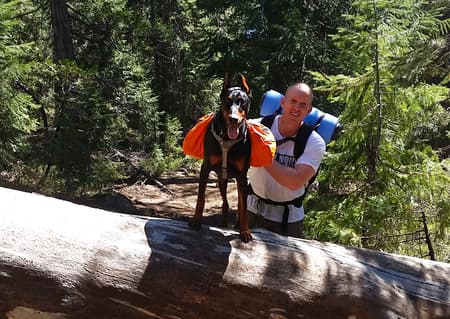 I was really excited to get a loyal protector for my family, especially on nights when I had to work late. Knowing that Cooper was at home with my wife was a big relief. But one thing I didn't expect, was how great our Doberman would be on the outdoor adventures we take!
We've been on multiple overnight backpacking trips with Cooper and every time we've been so happy to have him. Not only does he do a fantastic job hauling his own gear with him in his pack, but we never need to have him on a leash, he won't wander off, and he insists on laying in watch over us while we sleep. Which, when you are out in the woods by yourself, is a really great feeling.
This is what kicked off my love, and passion, for the Doberman breed and it's why this is the only breed I now work with.
Qualifications
The areas where I have gained valuable training, knowledge, and expertise is specifically in family relations involving Dobermans.
I do not train IPO/Schutzhund competitors and I do not compete in bite sports. While I believe that these things are great hobbies for some, this is not what a majority of owners are looking for in a Doberman.
Most owners simply want an easy-to-manage, loyal, loving, protective, and gentle family companion who is completely trustworthy in their home environment. This is where my expertise lies. What I enjoy doing more than anything, what gets me up in the morning, is helping people with their Doberman to thrive in a family environment. So, I strive every single day to be the best "Family Doberman Specialist" that I can possibly be.
My qualifications as a Family Doberman Specialist (FDS):
Certified in Canine Communication (CPD certification # KC13O962).
Member of the Association of Professional Dog Trainers (Member # 105480).
Supporting Member of the IAABC (International Association of Animal Behavior Consultants – Member # 113766).
Worked with Dobermans and their owners exclusively for the past 7 years (both in-person and online training).
Provide consulting services to families through DobermanPlanet.com (available here).
Provided expert reviews to award-winning authors of Doberman-related books due to my understanding of the breed's natural behaviors.
Participated in interviews with various animal and K9-related media outlets.
Researched and written over 330 pages of Doberman-related articles on topics such as health, training, temperament, family relations, and all other aspects of living daily life with a Doberman.
I read, research, and write about Dobermans between 2 to 8 hours a day, six days per week.
Sponsored and/or conducted multiple Doberman behavior-related studies including a landmark study in July of 2021 on the behavior differences between American and European Dobermans (available here).
Currently, I've authored over 165,000 words (or close to 3 novels worth) of heavily researched articles regarding the Doberman breed.
Conducted hours of interviews with experts in the field in regard to various aspects of the Doberman breed.
Continue to consult with Doberman experts on an as-needed basis during various phases of my research for Doberman Planet.
Founded the Doberman Planet YouTube channel which has over 200,000 subscribers from all around the world where I share knowledge and experience focused on family relations with Dobermans.
NOTE: I am a dog trainer with extensive knowledge of the Doberman breed, however, I am not a canine behaviorist.
The great thing about all of this is that it's what I enjoy doing, and now get to run DobermanPlanet.com where I share all that I've learned about these amazing dogs over the years. I use this website or our YouTube channel to report back to Doberman owners worldwide on what I've learned through the years and with my ongoing research. I truly love helping other Doberman owners bring these wonderful dogs into their families or their specific living situations.
It's up to Doberman owners all over the world to spread the word about this wonderful breed! Let's bring this breed into the mainstream and let the world know what a wonderful family addition a Doberman Pinscher makes!
Experts Who Have Collaborated with Doberman Planet
Here at Doberman Planet, we often reach out to experts in certain fields to provide their valuable insight. Below are some of the experts we've collaborated with in the past to ensure that this site contains only the most accurate information possible.
| Donald Buchanan, DVM | Dr. Buchanan primarily offers his services through the Animal Medical Centre in Sydney, Canada. He obtained a B.Sc. degree at Nova Scotia Agricultural College in 2010 and later graduated from Atlantic Veterinary College with a Doctor of Veterinary Medicine (DVM) degree in 2014. He frequently provides expert review of medical-related articles on Doberman Planet. |
| --- | --- |
| Sophie Liu, DVM | Dr. Sophie Liu currently is the co-founder of the Doberman Diversity Project, a non-profit that works tirelessly towards the goal of reducing the prevalence of genetic diseases (such as DCM) in the Doberman breed. She also provides veterinary services through the San Francisco SPCA Veterinary Hospital. She has experience working in animal cognition at UC Berkeley and later went on to receive her Doctor of Veterinary Medicine (DVM) degree from Cornell University. She has provided expert opinions and reviews of medical-related articles on this website and videos on the Doberman Planet YouTube channel. |
In the Media
In the September 2022 publication of "The Diablo Gazette", Doberman Planet was recommended as the place to go to learn if the Doberman breed would be a good fit for your lifestyle (page 12). We were also quoted in regards to the passing of Ruby, the Zipper-Nosed Doberman (@rubydooby_do) on page 20 of the same issue. See this issue here.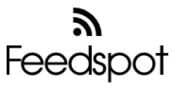 In March of 2021, the Doberman Pinscher Rescue of PA, Inc. published their Winter of 2021 issue of their quarterly newsletter titled "Doberman Dispatch". In it, John Walter's article titled "Dilated Cardiomyopathy Genetic Tests DCM1 and DCM2—What They Can (and Can't) Tell Owners" appeared.
In December of 2020, The Bark magazine mentioned Doberman Planet in an article that highlighted the roles of maligned breeds (such as the Doberman) in young adult books. The Bark magazine is an award-winning publication founded in 1997 and dedicated to the serious dog enthusiast. You can see this article here: Dobermans and Pit Bulls Star in Young Adult Books.

In July of 2020, the Doberman Diversity Project and John Walter collaborated to bring awareness to the problem of DCM in the Doberman breed. The resulting video was praised by organizations across the country for bringing awareness to this important issue and it now has the honor of being included among the Doberman Diversity Project's Educational Videos.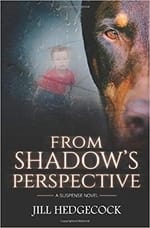 In May of 2020, Doberman Planet founder John Walter provided an expert review for the upcoming release of the book "From Shadow's Perspective", a sequel to "Between Shadow's Eyes." John reviewed the behaviors of the leading character, a Doberman named Shadow. A quote from John can be found on the first page inside the front cover of the book and he is also mentioned in the book's acknowledgments section.

In November of 2019, John Walter was interviewed by HelloBark.com in regards to the Doberman breed and his feelings surrounding many important aspects of Doberman ownership. You can see John Walter's interview with HelloBark here.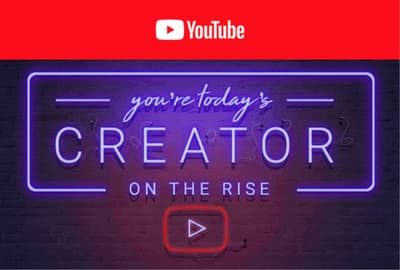 On November 22, 2019, John Walter was recognized by YouTube as a "Creator on the Rise" due to his informative videos on Doberman ownership and quickly expanding audience. The Doberman Planet YouTube channel received a featured spot on the YouTube homepage which drastically expanded the channel's reach.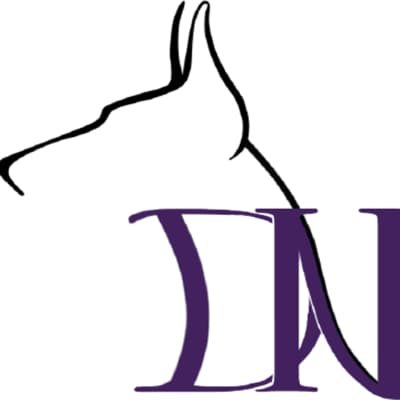 In the October 2019 issue, Doberman Network Magazine quoted John Walter of Doberman Planet in regard to his take on aggression in modern-day Dobermans. This quote appears in their article Ruby: An Instagram Sensation and a Tribute to Her Breed. Doberman Network Magazine is a trusted authority on Doberman Pinschers worldwide.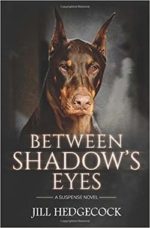 In May of 2019, Doberman Planet founder John Walter was contacted by award-winning and internationally-published author Jill Hedgecock in regards to her upcoming book, "Between Shadow's Eyes". A touching story of a girl's deep bond with her rescue Doberman. Doberman Planet provided an expert review of the book and the starring Doberman's behaviors. Doberman Planet is credited in the afterword of the book and a quote from John Walter can be found on the inside of the front cover.
Doberman Planet LLC
6366 Commerce Blvd # 194
Rohnert Park, CA 94928
Phone: (707)410-0455
Information regarding advertising and media-related inquiries can be found on this site's contact page.
Thank you for visiting DobermanPlanet.com!